The COVID 19 pandemic has renewed our interest in the presence of immunity boosting food in our daily diet. Immunity is not built up in a day. There are no magic pills. Eating a well-balanced diet and being physically and mentally active is important to remain healthy and keep your immune system in good health. Of particular interest are some common herbs that are used regularly in our food. Some of these herbs and their medicinal properties are mentioned here.
• Ajwain seeds(Caraway seeds) – contain niacin and thymol, two essential compounds that have anti-inflammatory and other benefits that boost the health of your heart. Its magical properties also helps stimulates nerve impulses and improves blood circulation in the heart.
• Basil(Tulsi) – is used to treat many conditions, including H1N1 (swine) flu, diabetes, the common cold, headache, fever, stress, upset stomach, earache and more. It has also been used as a mosquito repellent and topically (on the skin) to treat ringworm.
• Black Pepper(Kali mirch) – is rich in a potent antioxidant called piperine, which may help prevent free radical damage to your cells.
• Cayenne(Lal mirch) – contains a substance known as capsaicin that has a therapeutic effect, triggering a biochemical reaction that is both analgesic (pain-relieving) and anti-inflammatory
• Cinnamon(Dalchin) – contains large amounts of highly potent polyphenol antioxidants. The antioxidants in cinnamon have anti-inflammatory effects, which may help lower your risk of disease
• Clove(Laung) – are low in calories but a rich source of manganese. Manganese is an essential mineral for maintaining brain function and building strong bones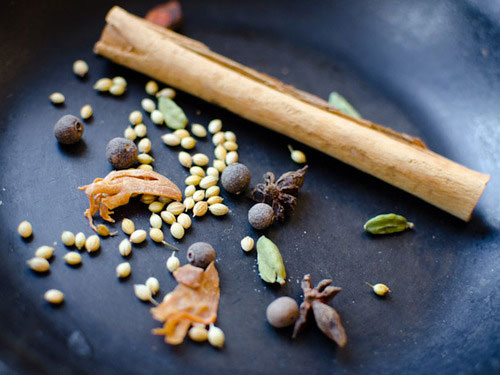 • Coriander(Dhania) – is filled with fibres that improves digestion and is good to improve bowel movement. It has anti-diabetic properties and promotes insuline growth. It is known for its medicinal properties, used to cure allergies, eye infections, anaemia etc.
• Cumin seeds(Jeera) – contain naturally occurring substances that work as antioxidants. That means that these substances (called apigenin and luteolin) keep the tiny free radicals that attack healthy cells from being successful. Antioxidants help you feel healthier and more energetic, and they help keep your skin from looking aged.
Fennel(Saunf) – is a good source of potassium, phosphorus, and calcium. When it comes to vitamins, fennel is highest in vitamin C and folate. Fennel also offers essential minerals like manganese, chromium, copper, iron, and zinc.
• Fenugreek(Methi) – used to treat digestive and respiratory ailments, and it has a long history of use in women's health—to induce labor and help with childbirth, and as a treatment for gynecological issues like painful menstruation and uterine problems
• Ginger(Adrak) – is used as a remedy for diabetes, indigestion, and colds, and can help balance a person's kapha (physical and emotional energies). It is also a common ingredient in chai tea and cinnamon tea, both of which are believed to improve digestion. It eases post-surgery nausea and vomiting, the herb also reduces motion sickness and morning sickness symptoms. Ginger tea is used to treat sore throat and cold inflammation.
• Garlic(Lasun) – has potent anti-oxidant properties, and helps in reducing stress and high blood pressure. It also helps to enhance thiamine (vitamin B1) absorption in the body and prevents beriberi. It is always best to chop or crush garlic before consuming it, because it works better when in contact with oxygen
• Mint(Pudina) – may also be effective at relieving other digestive problems such as upset stomach and indigestion.
• Mustard seeds(Sarson) – are rich in a nutrient called selenium, known for its high anti-inflammatory effects. The high source of magnesium in mustard seeds helps reducing the severity of asthma attacks and certain symptoms of rheumatoid arthritis and lowering blood pressure.
• Turmeric(Haldi) – The Golden spice. Turmeric is used as an herbal medicine for rheumatoid arthritis, chronic anterior uveitis, conjunctivitis, skin cancer, small pox, chicken pox, wound healing, urinary tract infections, and liver ailments. It is also used for digestive disorders; to reduce flatus, jaundice, menstrual difficulties, and colic; for abdominal pain and distension (Bundy et al. 2004); and for dyspeptic conditions including loss of appetite, postprandial feelings of fullness, and liver and gallbladder complaints. It has anti-inflammatory, choleretic, antimicrobial, and carminative actions.
(Reproduced from multiple sources – poshan.outlook.com; healthline.com; medlife.com etc..)